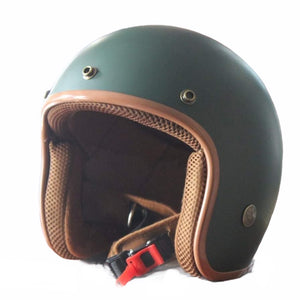 Matt green with tan cushioned lining, to  keep you looking fly and feeling safe on your King. 
Cool to wear and cool to be seen in. It's a hat, so it'll keep you dry.
Chin strap locks this lid tight and a small clip on peak is included. 
One size. Also available in all black. 
These are not EU / UK certified, we wouldn't go entering a Moto GP with one, they are not for use on a motorcycle, but they will keep you drier and look a whole lot better than your standard cyclist salad strainer! For legal purposes we have to disclaim that these helmets are for 'show use only' and not for road use. 
LIMITED STOCK OF JUST 3.